Even if you are in a relatively low-speed rear-end collision in O'Fallon, IL, however, what many fail to realize is that even the most mundane types of automobile crashes such as these can cause whiplash to anyone who is in the front vehicle. Whiplash is a condition that should never go untreated as it can cause many serious health problems and permanent side effects down the line, which will lead to expensive medical bills. Here we will be providing more information on what to do if you receive a whiplash injury and why you should not wait to have yourself looked at after suffering whiplash from a rear-end automobile accident.
What Causes Whiplash
Whiplash is an injury of the neck that is caused whenever the neck is shaken suddenly or is forced back and forth violently. Rear-end automobile accidents, especially ones that involve vehicles stopped at a light, will throw the vehicle forward which will cause the driver's neck to also be forced forwards. It can even cause the driver's neck to be forced back and forth multiple times depending on the strength of the collision.
Symptoms of Whiplash
There are many signs of whiplash that some may not be able to see. This can lead many people to never suspect they might have whiplash from the accident they suffered. Soreness and stiffness of the neck are one of the most common symptoms of whiplash, however, whiplash can also cause dizziness, fatigue, numbness of the arms, regular migraines, amnesia, and more. You should suspect whiplash after any rear-end collision and even if you do not think you suffered whiplash, you should have yourself looked at by a doctor after your accident just to be sure.
Treatment for Whiplash
Your doctor will help you decide which treatment will work best for you, as every patient is different. The most common treatments used to help whiplash include rest, iced, or heat compressions. Painkillers, and some careful exercises. In some severe cases, your doctor may suggest surgery as a treatment for your whiplash injury, however, this can be expensive.
Filing A Claim Against the At-Fault Party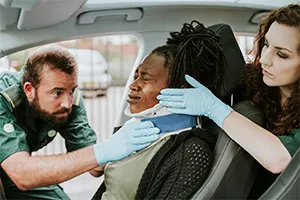 After a whiplash injury from a rear-end automobile accident, the best thing you can do is to file an injury claim to help you recover compensation for your treatments and any treatments you plan on undergoing in the future. To help you with your injury claim, make sure that you contact a local professional attorney in O'Fallon, IL to help you.
If you are looking for a reputable attorney to help you with your injury claim after suffering whiplash from a rear-end automobile accident in O'Fallon, IL, be sure that you give our team of experts over at the Law Office of Don Cary Collins a call today!