It is important to know what worker's compensation and third-party claims are in Belleville, IL. If you are a worker, knowing your options to seek compensation for work-related injuries that were not your fault is crucial. Here we will be discussing more workers' compensation and third-party claims.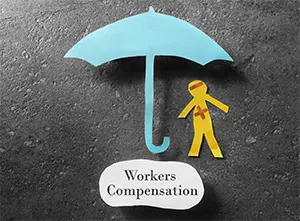 Workers' Compensation
Workers' Compensation covers a broad scope of injuries that can happen to an employee in Belleville, IL while they are at work. These injuries are covered by workers' compensation benefits by law in the state of Illinois. The state of Illinois workers' compensation can provide these benefits:
Keeping your job
Covering both medical and rehabilitative expenses
Permanent total disability benefits when a victim loses the use of a part of their body
Temporary total disability benefits equal to two-thirds of the average gross weekly wage made by the victim if they are unable to work while recovering
Medical and rehabilitative costs
It is required through the state of Illinois that all employers need to carry workers' compensation insurance for their employees. Employers are also protected from having civil lawsuits filed against them by workers who cite non-economic damages like emotional distress, pain and suffering, and more. Illinois workers' compensation law also protects employees and makes sure they will receive benefits no matter who was at fault for their work-related injury.
Third-Party Claims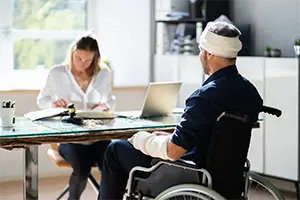 If an employee in Belleville, IL endures an injury that was caused by a co-worker or employer, the victim has the right to file a third-party liability claim against the party at fault. Some common third parties that get included in lawsuits like this include property owners of construction sites, the manufacturers of certain tools or equipment, drivers on the road, and general/subcontractors just to name a few. Here are examples of common third-party claims:
When an employee has been injured on the premises the works from a hazard, the owner of the premises is liable for the injury.
If an employee were to be hurt by a careless driver while they were working, that driver would be liable.
When an employee is harmed by equipment or tools that are found to be defective or malfunctioning, the product manufacturer could be found liable.
To have a successful third-party claim, an injured worker needs to prove that the third party had breached a duty of care, that the breach of the duty of care is what had caused the injuries, and that the employee had suffered damages. The Difference between third-party claims compared to workers' compensation claims is that the financial compensation from the third party would also include past and future medical expenses, as well as any lost wages from not being able to work, and also includes any non-economic damages sustained.
If you are working on a workers' compensation or third-party claim in the Belleville, IL area, give our team over at the Law Office of Don Cary Collins today!